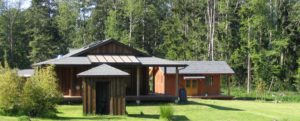 Traditionally Enso House and Tahoma Zen monastery have offered an on-site care-giver retreat. The current pandemic has obviously brought an abrupt change in everyones circumstances and we will not be able to gather on the grounds for the foreseeable future. 
Instead we would like to offer a series of short programs that can be accessed online, creating an opportunity to be together while physically apart. With this series we hope to offer some caring and relief to people who are managing a terrible load both in the world and in their hearts. 
We will offer six individual events each approximately three hours long. Each event will be stand-alone, please attend as often as you wish.
The events will be similar with a program of gentle yoga, meditation on breath, with opportunities to discuss and share feelings, emotions, and thoughts without judgement.  Each event will end with a guided healing visualization. 
The purpose of the work is to help us restore strength and suppleness to body and mind, to release the stiff bracing that the overloaded day forces onto the body and mind. As Zen teaches, flowing water encounters no obstructions, matching itself to whatever the circumstance – whether a glass or cliff-face, flowing water directly adapts. Frozen water is locked in its shape, unable to change. Together we can create warmth in our hearts, melt away the rigidity, and move freely once again. 
Each Caregiver event will be approximately 3 hours long.
Each event will include with a gentle yoga session with focus on breathing throughout a flowing, stretching body. Postures from standing, seated in a chair and on the floor, and lying down.
After a break we will continue with short introduction to meditation covering posture, breath, and attention.
We will meditate together for (4) 15 minute periods, between each period there will be an opportunity to submit questions via the 'chatbox' and questions will be discussed after meditation periods.
After discussion, we will end lying down with a guided visualization using a Healing meditation.
Afterward people can stay online to dialog or leave the event.
We will contact you with details on how to access the event.